We offer two different types of touchless massage options: Lymphatic Drainage Massage in the Ballancer Pro pneumatic compression massage therapy suit or the Migun Infrared Acupressure Massage Table. Both are FDA cleared medical devices and both are incredibly relaxing and beneficial.
With both treatments, we are in the space with you briefly to get you comfortable and adjust the correct settings and leave you to enjoy your massage. You stay fully clothed for both massage options.
If you would like to come with a friend, you can enjoy both these touchless massage options together in the same room with one of our 2 person spa packages.
Ballancer Pro Touchless Compression Massage Therapy
The Ballancer® Pro compression system gives the body a gentle lymphatic drainage massage which helps with detox, weight loss, body contouring, skin tightening, lymph drainage, immune function, athletic recovery, post-surgery recovery, and more. The massage suit has 24 chambers that rhythmically fill with air to provide your body with a relaxing and restorative massage.
We can set the time on the massage from 20 to 80 minutes, the protocol for true lymphatic drainage is 40 minutes in the pants and 20 minutes in the jacket for a complete lymphatic flush.
This is part of our Brain Spa Favorite stack which includes a 60-min full-body lymphatic massage with neurofeedback and LightStim red light facial.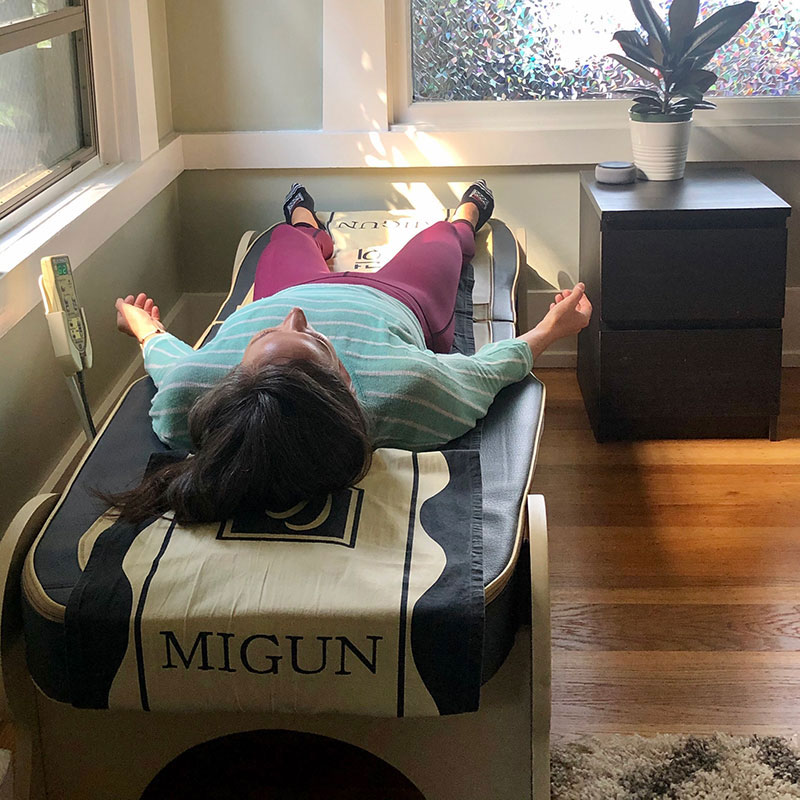 Migun Infrared Acupressure Touchless Massage Table
The Migun Acupressure Massage Bed, an FDA approved Class II Medical Device, combines the technology of far-infrared heat, massage therapy, and acupressure. Jade stones emitting infrared heat gently flex and stretch the spine as they massage from the top of your head down to your feet.
Choose from 15 or 30 minute preset massages.
This is a favorite add-on after a neurofeedback session.