Post Op Lymphatic Massage
Ballancer®Pro is a post op Lymphatic Massage Compression Therapy
Did you just have surgery?  The Ballancer® Pro compression system gives the body a post-oppost op lymphatic massage which helps with post-surgery recovery.  The massage suit has 24 chambers that rhythmically fill with air to provide your body with a relaxitherapeuticorative massage.  The Ballancer® Pro system produces immediate ,results and there is no downtime or side effects. The BallancerPro FDA-approved medical device.  It is very safe and gentle and has many lymphatic drainage massage protocols including pre and post-op and lymphedema treatment. 
Post Op Lymphatic Drainage Massage is recomended after:
Tummy Tuck
BBL
Mommy Make-Over
Mastectomy
Liposuction (Lipo)
Explant
& many other surgeries
Post Op Lymphatic Massage FAQs
How soon after surgery can you begin Post Op Lymphatic Massage?
We can put you in the Ballancer Pro once your drains are out and your wounds have healed.
How Many Post Op Lymphatic Massages will I need?
Your surgeon would have given you a recovery protocol for post op lymphatic massage and you need to refer to their instructions.  
We typically have seen our post-op clients for 5 to 15 sessions of full-body lymphatic drainage massage.
If you did not get instructions, the standard lymphatic drainage protocol in the Ballaner Pro is 10-12 sessions in 3 to 4 weeks.
What if I had BBL and can't sit?
No problem!  You can lie on your stomach for the massage.
Do I wear my compression garmets?
For post op lymphatic massage you will need to remove any compression garments during the treatment.
Where does the fluid drain to?
The lower part (pants) flushes and drains to your thoracic duct.  The upper part (jacket) flushes and drains to your lymphatic duct.  The body moves this through your waste system and you will urinate it out after (not during) the massage.  
Benefits of Post Op Lymphatic Massage
Increase detox
Improve circulation
Reduce swelling and inflammation
Boost immunity
assist weight loss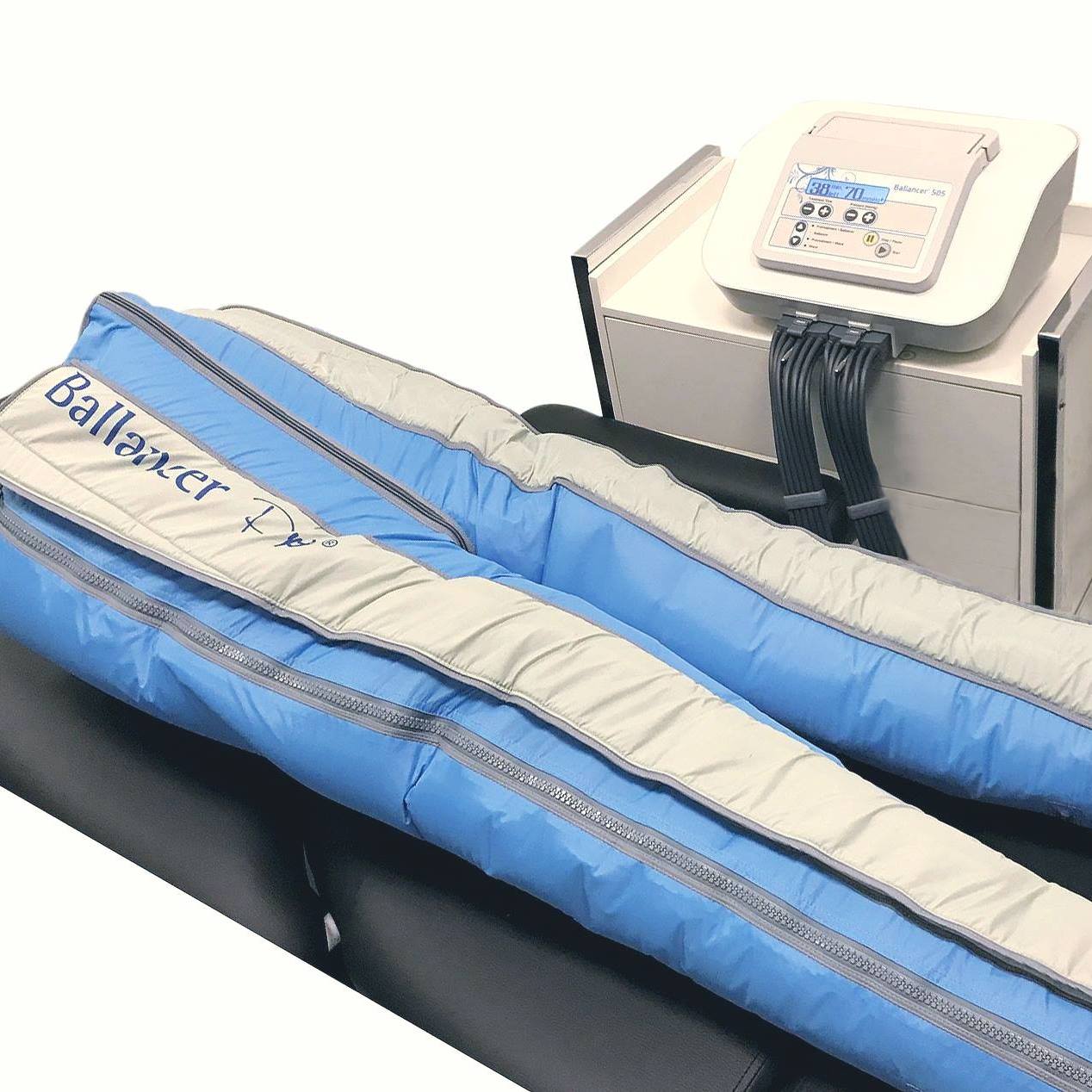 What to Expect with your Lymphatic Drainage Massage
Special Handling & Contraindications
You may book your lymphatic massage when your wounds are fully healed (no longer weeping) and your drains are removed.  
The BallancerPro is an FDA approved medical device.  It is very safe and gentle and has many protocols, including for pre and post-op and lymphedema treatment. 
It is contraindicated for:
Congestive heart failure, unstable cardiac disease

Heart or vascular problems

Poor circulation or areas of numbness

Inflamed or swollen or skin eruptions

Not to be used with blood clots, deep vein thrombosis or phlebitis
Consult your doctor if you have active cancer or actively going through chemotherapy.
During Pregnancy compression massage can be safe and beneficial for edema. A special protocol that requires turning off certain valves would be done. You may want to consult your doctor before using.