Looking for a fun thing to do with your special person, like a couples massage, but even cooler?  Check out our Brain Spa two-person offerings!
While we think all self-care is mandatory, we know that doing things with your BFF is way fun.  Our two-person packages are perfect for:
couples, dates
BFFS
siblings
parent/child
Co-workers
anyone wanting to spend some very relaxing, self-care time together!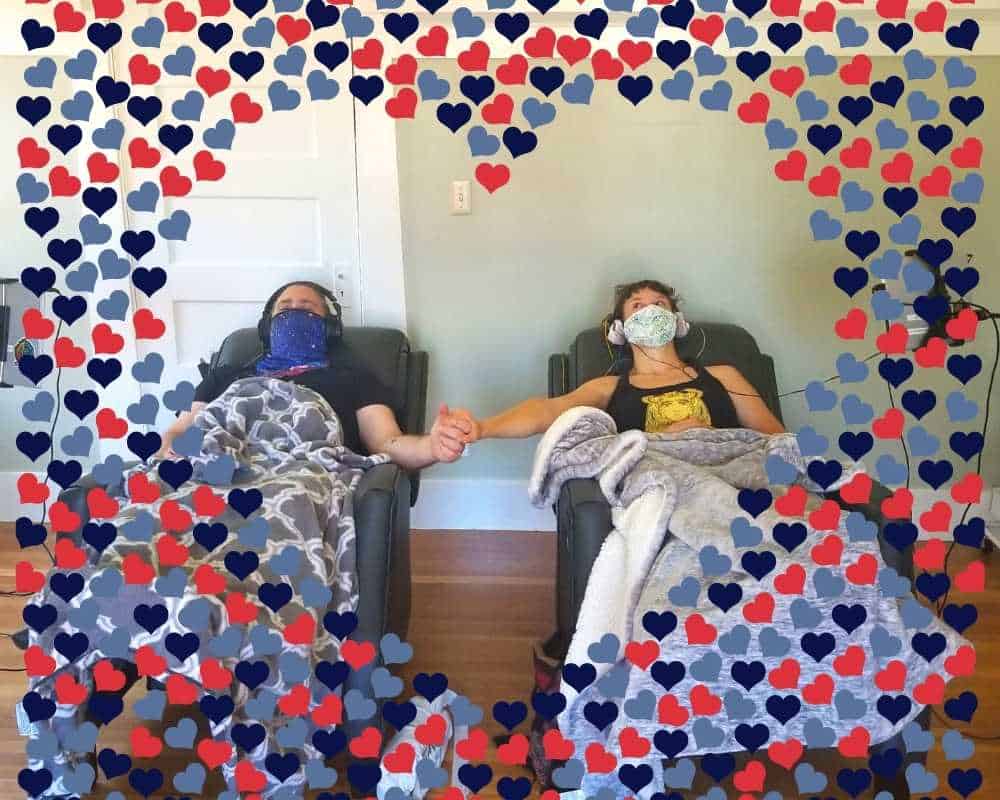 **A note about traditional couples massage vs Brain Spa couples massage …  while it's super sexy to take your clothes off together and be rubbed down by someone in the same room… it can also be super AWKWARD, and not always appropriate for the person you want to spend time with.  At the Brain Spa you will stay fully clothed and mostly have the space to yourselves (we pop in occasionally to help you set up the next biohacking treatment and make sure you are having a great time.)
2 Person 2 Hour Total Reset
Like with a typical couples massage you have an entire room to yourselves as you enjoy the totally relaxing treatments.
Each person will do a full treatment of:
It looks like this for the first part: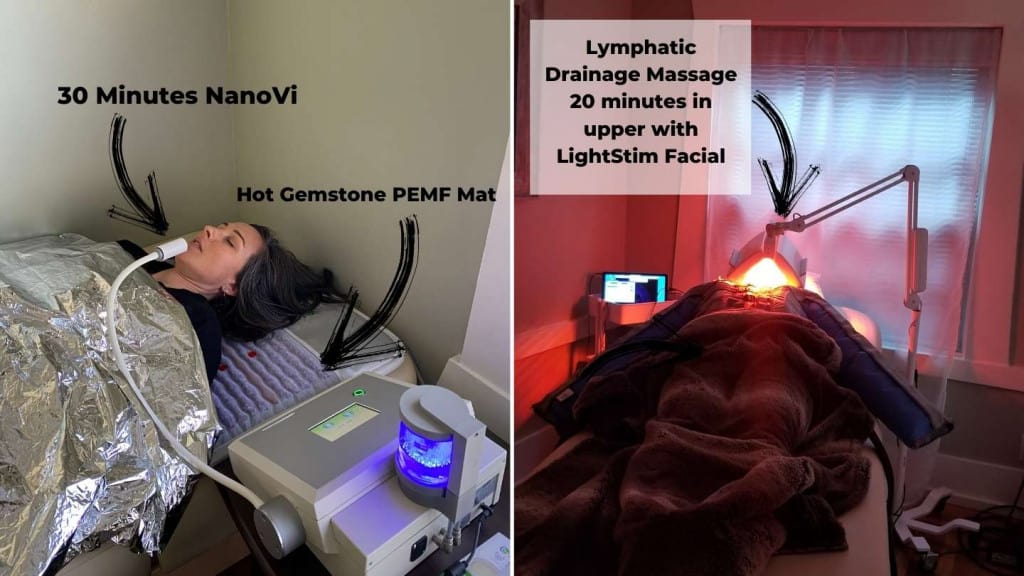 And then you swap and trade stations!  2 full hours of relaxation, rejuvenation, restoration!
This is by far one of our most popular packages and clients return regularly.  Friends, couples, and covid-pods love having this shared experience.
We have this package priced as a super steal at $200 per person for everything.  If you were to book the same treatments individually it would be over $350 per person!
2 Person Neurofeedback and Migun Acupressure Massage
Enjoy our beautiful living room in front of the cozy fireplace while you both enjoy a 33-minute effortless and relaxing neurofeedback session followed by a 30-minute acupressure massage.  $80 each.
Each person will do a full treatment of:
Other 2 person options:
33-minutes Neurofeedback for 2 – $50 each
30-minutes Migun Acupressure Massage only for 2 – $40 each
Read more about either of these here:
Are you interested in something more custom? 
We are happy to design a special experience just for you! 
Reach out
and let us curate a package for you.
Just for a fun thing to do or for a special celebration like a birthday, anniversary, promotion, Valentine's Day, or whatever you feel like celebrating, we promise to make it special for you!
| Package | Time | Person 1 | Person 2 |
| --- | --- | --- | --- |
| #1 | 2 hours | NeurOptimal Neurofeedback, BallancerPro Full-Body Lymphatic Massage, LightStim Red Light Facial, Migun Acupressure Massage, PEMF, NanoVI | NeurOptimal Neurofeedback, BallancerPro Full-Body Lymphatic Massage, LightStim Red Light Facial, Migun Acupressure Massage, PEMF, NanoVI |
| #2 | 75 mins | NeurOptimal Neurofeedback, BallancerPro Full-Body Lymphatic Massage, LightStim Red Light Facial | NeurOptimal Neurofeedback plus Migun Acupressure Massage or PEMF with NanoVI |
| #3 | 70 mins | NeurOptimal Neurofeedback, Migun Acupressure Massage | NeurOptimal Neurofeedback, Migun Acupressure Massage |
| #4 | 40 mins | Neurofeedback | Neurofeedback |
| #5 | 30 Mins | Migun Acupressure Massage | Migun Acupressure Massage |