Effortless Neurofeedback Brain Training
Cutting-edge Neurofeedback Technology
We use NeurOptimal®—the most advanced, safe, powerful, non-invasive, and effective EEG-based technology on the market—that works directly with your central nervous system. The technology uses non-invasive sensors to monitor the electromagnetic activity of the brain and produces audio feedback in real-time—millisecond by millisecond. This gentle audio feedback signal helps the brain adapt to real-time information and makes decisions about how to improve itself—based on its own innate understanding of what it needs.
Why Neurofeedback Brain Training Works
Science has shown us that the brain is malleable and can be trained to optimize itself. By detecting and monitoring cortical patterns, the brain receives the information it needs to auto-correct itself.
Brain training acts as a mirror for the brain and shows it what it needs to make its own adjustments. Over time the adjustments made become the brain's new normal—more efficient, more effective, and high performing.
How Neurofeedback Brain Training Works
Our technology is completely non-invasive, using sensors to monitor real time electromagnetic activity in the brain and produce audio feedback by the millisecond. This gentle audio feedback helps the brain to adapt to information that it did not previously have access to and then make better decisions about how to improve itself. The human brain inherently knows what it needs and naturally self-corrects, self-organizes, and self-rewards. Neurofeedback technology unlocks the brain's ability to function optimally.
Why Train Your Brain?
Regular neurofeedback training sessions teach the brain to operate more efficiently and maintain the learnings it discovers, potentially over a lifetime. This is because NeurOptimal ® neurofeedback technology helps the brain to make the best use of its natural resources. While other technologies require you to actively interact with the technology for it to work, NeurOptimal ® neurofeedback technology retrains your brain to continue to optimize itself independently.
Some of the many benefits of neurofeedback: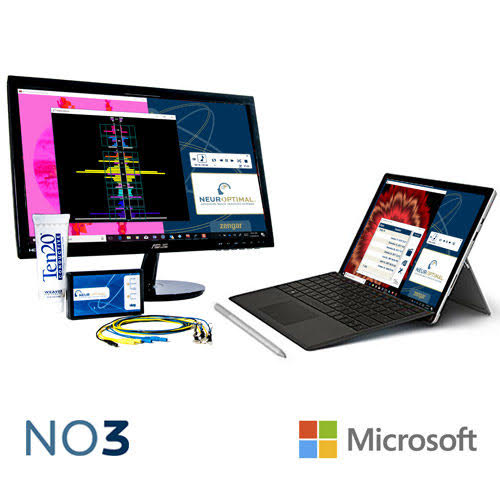 Issues for which NeurOptimal® Neurofeedback is Particularly Effective
Trainers were asked to volunteer which issues they found to respond particularly well to training with NeurOptimal®. Their responses are grouped in order of frequency of votes starting with the highest. Within each grouping there is no significance to the order.
Sleep
ADHD, ADD, focus, concentration, attention

Anxiety

Stress, stress related issues, relaxation, tension

Depression

PTSD, trauma

Migraines, headaches

Fibromyalgia,
chronic pain and pain related symptoms,
General Well Being,
Burnout

Autism,
Anger, irritability, aggression,
Addiction,
Eating Disorders,
Mood swings, PMS, menopause,
Peak Performance,
Confidence,
OCD,
TBI (traumatic brain injury, post concussion syndrome)

Epilepsy,
Bi-polar,
Aspergers,
Panic attacks,
GI Problems, Celiac, constipation,
Phobias,
Behavioral Issues, tantrums, melt downs,
Memory,
Resilience

Dyslexia,
Lyme Disease,
Tourettes,
Chemobrain,
Asthma,
Meditative arts,
Performance Arts,
Specific Noise Disturbance,
Parkinson
Brain training is non-invasive, non-medical, and requires no diagnosis.  All brains, all ages can benefit.
All Brains Welcome
What conditions/diagnoses are Neurofeedback helpful for?
Most people seek out neurofeedback because they are looking to treat a diagnosis, whether it be ADHD, anxiety, etc. NeurOptimal® neurofeedback can be beneficial for anyone. It is not a treatment for any condition but as the brain is trained for greater resilience and flexibility people report relief from symptoms and life improves.
Are there any contraindications?
There are no contraindications for NeurOptimal®. It is safe for everyone!
How long does a session take?
Each session takes about 33 minutes, with a few minutes on each end for hook up and removal of sensors. We tell users to allow 45 minutes end-to-end.
How many sessions does it take to feel a difference?
Each person is unique. Some people feel shifts right away, others might feel changes with multiple sessions. It is similar to a new workout program at the gym or a diet in that doing it for one day is not likely to make a big impact but if you do several the change starts to build. We recommend a package of sessions or a rental to experience the benefits of cumulative training sessions.
What sorts of differences will I start to feel?
Brain training can have a wide variety of benefits. Many clients report improvements in managing sleep, feeling more calm, focused, productive, increased emotional self-regulation, bouncing back from stressors with ease and more! Clients report that work and family life is smoother. The shifts can be subtle and seamless and some clients don't even notice all of the changes that have taken place.
How long has this technology been around?
Neurofeedback has been around since the 1960s, but originally it was only available to astronauts and Navy Seals to help them reach peak performance. Because of advances in technology, NeurOptimal® has made brain training accessible to the public for the past 20 years.
Are there any side effects?
Is brain training invasive?
No. Other than having sensors temporarily attached to your head and ears, NeurOptimal® is entirely non-invasive and 100% safe! During the sessions, the brain is receiving information about itself, similar to looking in a mirror.
Is brain training approved by the FDA?
NeurOptimal® has been designated as a General Wellness Product by the United States FDA.
Is it covered by insurance?
Unfortunately, it is not covered by insurance, because it is not a medical device but considered a general wellness product. Bay Area Brain Spa is dedicated to providing low-cost neurofeedback so that all brains can access the benefits of brain training.
We can charge HSA/FSA cards.
Is Neurofeedback the same is Biofeedback?
Neurofeedback uses EEG to measure the electrical activity of the brain. It is a subset of biofeedback.
If I stop training will I lose the benefits?
NeurOptimal® brain training is a learned process for the brain. Similar to learning to read or ride a bike, it cannot be unlearned. Just like if you haven't ridden a bike in a while you can get wobbly. Clients will experience a variety of positive changes during training and those changes hold over time. Some clients chose to come in for regular "tune-ups" when they experience higher times of stress or if old symptoms start to surface.