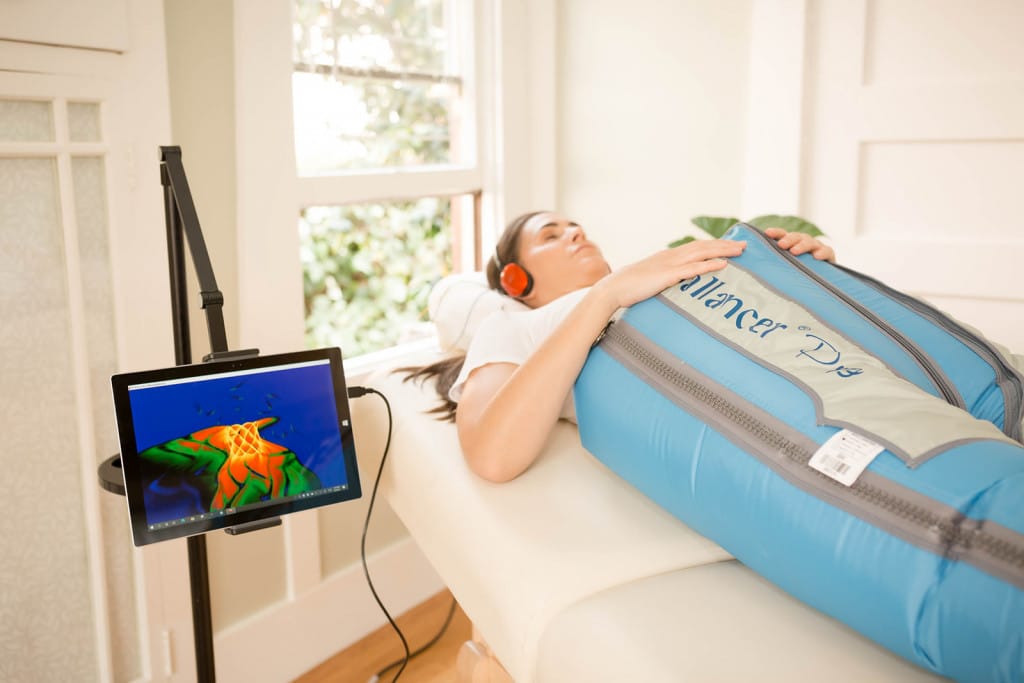 Join Bay Area Brain Spa and Move With Studio for The Reset Day Retreat
Sunday, October 17th, 9am to 1pm
SOLD OUT email for waitlist
What's Included:
Move With Studio's Pilates Intensive
This 75 minute Pilates Intensive, is an extended version of the studio's two signature classes: Reformer Flow and SpringBarre. This is a Level 2 class that will go deep into movements, break down sequencing, and get every inch of your body to feel all the feels. 
Bay Area Brain Spa Sampler
 Enjoy a whole suite of wellness treatments at the Bay Area Brain Spa (over $150 value.)  Relax for a lymphatic drainage massage with an effortless neurofeedback session and then sample the biohacking stations of your choice, including red light therapy, Avecen thermotherapy, Migun acupressure massage, PEMF hot gemstone mat, and NanoVi.  
Lunch & Goody Bag
After the wellness treatments and Pilates, we will gather to enjoy a picnic lunch in the garden together with a goodie bag to take home!  
Cost and Registration:
$199
Last fall our retreat sold out so claim your seat now!
FAQ:
I want to be with my friends, how do we sign up together?
Just leave a note in the booking or send us an email with your names.
I've never done Pilates, can I still join?
The Pilates portion of the retreat is not ideal for beginners or those brand new to Pilates. If you have more questions about the Pilates portion of the day please send Move With Studio an email at hello@movewithstudio.com
I've never done neurofeedback. What do I need to do?
Neurofeedback is totally effortless and safe for all brains and all ages.  You will have 5 sensors attached to your scalp and ears (with a little conductive paste) that listen to your brain activity and create feedback in the form of interrupts in the music you are listening to.  You just relax and listen to the music (though many fall asleep!)  
I have a health condition, can I still participate?
Email us so we can consult with you.
I am a vegetarian or have food restrictions.  What's being served?
Please email us any food restrictions so we can plan and accommodate!
I have more questions, who can I ask?
Enjoy our Mini-Boost of Lymphatic Massage and Neurofeedback:
Mini-Boost Lymphatic Massage and Neurofeedback
40 minute lower body lymphatic massage helps with detox, weight loss, body contouring, skin tightening, lymph drainage, immune function, athletic recovery, post-surgery recovery, and more. Relax with effortless neurofeedback during the massage that helps optimize your brain and center your central nervous system.
PEMF InfraMat Pro
Relax muscles, reduce pain, improve joint flexibility, and circulation. Providing a full-body experience, the Platinum Mat 7428 helps the body to recover from daily tension and stress faster, rejuvenate cells more intensely, promote better mood and pain management, and much more. No extra fee.
NanoVI
NanoVi™ technology produces the same biological signal our bodies makes to repair cell damage. Our bodies are exposed to toxins and free radicals which causes oxidative damage to the cells. We are exposed to more toxins in the air we breathe and food that we eat than ever. Our body simply can't catch up with the rate of repair needed. Bio-identical signaling to the body initiates a repair process at a cellular level. NanoVi™ sessions are as easy as breathing in humidified air.