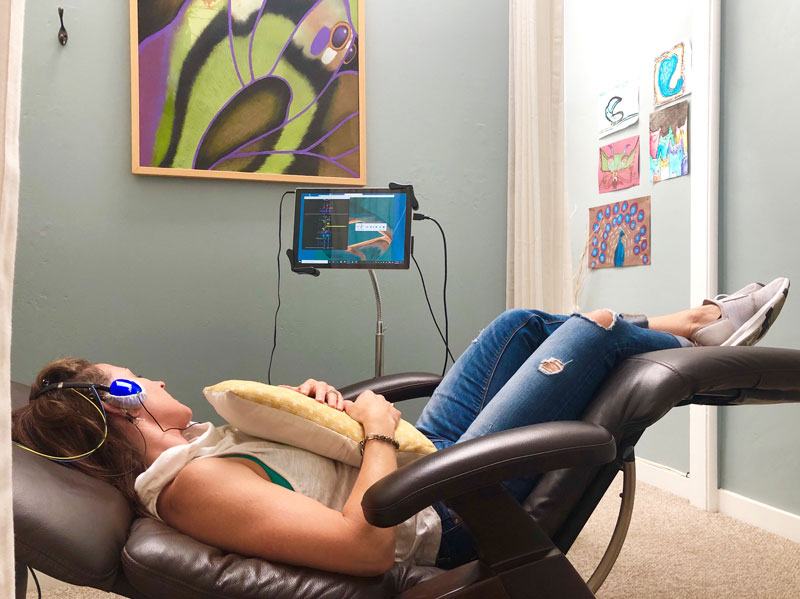 Community Brain Spa
We are able to offer lower-cost neurofeedback in a community setting with multiple stations. Just like benefitting from a group meditation, people can also benefit from a group neurofeedback session. We love the idea of bringing community together for group brain training. After exhibiting at many conferences over the years we have seen the power of multiple people training at once. Our booth becomes a vortex that pulls crowds and we are always waitlisted! We are really excited to welcome mom's groups, friends, colleagues, team members, clubs, gyms, etc to have their own spa days. If you are interested in renting the space for the day for a private offsite or lunch and learn with team brain training, please inquire. We can customize a package for you!
Prepare for your session:
Wear comfortable clothing that you can relax in

Bring a pair of comfy socks as we are a shoes off space

Avoid wearing perfume or scented fragrance the day of your session

You are welcome to bring an eye mask and your personal headphones or earbuds 
At the Spa:
Please arrive at your session a few minutes prior to your appointment time

Please enter the Brain Spa quietly and remove your shoes and silence your phone.
Sign in and sign a waiver if it's your first time.
You will be shown to a seat, situate your belongings.
A trainer will use a bit of conductive paste to connect 3 little sensors to your ears and 2 to your scalp to read your cortical activity.
You will wear headphones and listen to relaxing music for 33 minutes (45 min extended version available).
During the 33 minutes of your brain training, there will be skips in the music which is the feedback to your brain.

you may nap, read, meditate, quietly work or use your phone during your session.
Please do not eat or talk while you are training.

When the music finishes please remove the headphones to signal the trainer to assist you in taking off the sensors
Enjoy the rest of your day as your brain continues to integrate and optimize for many hours after your session.  Watch for surprises.
Private Sessions
Both Angela and Carleigh see clients for private sessions.  If the community setting is not for you or if you want to have one on one consultation to discuss your training you are welcome to book an individual session.
Mind Balance Scheduling with Angela click here (appointments at 7025 Stockton Ave. El Cerrito, CA 94530). Single or tandem sessions available.
SuperBrain Neurfeedback Scheduling with Carleigh click here (appointments in the Brain Spa) Single and families up to 4 people training.
Private sessions are best for:
Children or anyone who can not sit quietly for 33 minutes.
Families who want to train altogether.
Anyone needing private consultation with their session.
Anyone needing movement of special accommodations for their training.
Kids
We LOVE kids! And we are super passionate about neurofeedback for kids however we ask that you refrain from bringing kids during spa hours. We have special hours designated for kids and family training as well as private sessions (which can be single or up to a 4 person family) Carleigh and Angela both have rental systems as well which are a great way for the whole family to train!