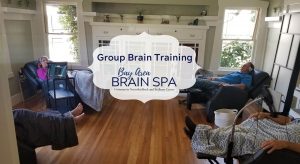 Prepare for your session:
Sign waivers and pay online

Wear comfortable clothing that you can relax in

Bring a pair of comfy socks as we are a shoes-off space

Avoid wearing perfume or scented fragrance the day of your session

You are welcome to bring an eye mask and your personal headphones or earbuds 

Use the bathroom before you arrive if possible
In the Brain Spa:
Wear a mask and sanitize your hands when you arrive

Remove your shoes and silence your phone.
You will be shown to a seat, situate your belongings.
A trainer will use a bit of conductive paste to connect 3 little sensors to your ears and 2 to your scalp to read your cortical activity.
You will wear headphones and listen to relaxing music for 33 minutes (45 min extended version available).
During the 33 minutes of your brain training, there will be skips in the music which is the feedback to your brain.

you may nap, read, meditate, quietly work or use your phone during your session.
Please do not eat or talk while you are training.

When the music finishes please remove the headphones to signal the trainer to assist you in taking off the sensors
Enjoy the rest of your day as your brain continues to integrate and optimize for many hours after your session.  Watch for surprises.
The Brain Spa Community Room offers 1 to 4 concurrent stations.  Perfect for friends, family, co-workers, date-night, etc.
We have a Kids Corner next to the Semi-Private station which can be booked alone or as a tandem station with parent and child.
In the lounge, you can sit on the BioMat and enjoy a NanoVi session.
We offer 3 different types of Red Light Therapy and have a red light station for red light brain protocol.
Private Sessions:
Both Angela and Carleigh see clients for private sessions.  If the community setting is not for you or if you want to have one on one consultation to discuss your training you are welcome to book an individual session.
Mind Balance Scheduling with Angela click here (appointments at 7025 Stockton Ave. El Cerrito, CA 94530). Single or tandem sessions available.
SuperBrain Neurfeedback Scheduling with Carleigh click here (appointments in the Brain Spa) Single and families up to 4 people training.
Private sessions are best for:
First-time clients who want to include education, intake, and tracking into their brain training practice.
Children or anyone who can not sit quietly for 33 minutes.
Anyone needing private consultation with their session.
Anyone needing movement of special accommodations for their training.
Kids:
We LOVE kids and we are super passionate about neurofeedback for kids. We are an all-ages, family-friendly spa and welcome your children and encourage whole families to train together. 
Carleigh and Angela both have rental systems as well which are a great way for the whole family to train at home!
Family Sessions:
Our 4 station Brain Spa is perfect for your whole family!  We offer a discounted price if you book all 4 chairs at once.