At the Bay Area Brain Spa we are all about health and safety. We want you to be able to relax and reset without worrying about germs.
All clients and trainers, regardless of vaccination status, must wear a face mask.
We have a large 700 square foot space with windows allowing cross ventilation.  We are limiting the number of people in the space to allow for proper spacing and air filtration.  This makes online booking very limited and we ask that you simply text us if you are unable to find the service or time slot you need.  We have more flexibility on the backend than online booking allows.
We run both a large Molekule PECO Air Filter and the medical PRO Molekule.  Developed over two decades by research scientists, PECO is an innovative technology that utilizes free radicals—the same radicals used to destroy cancer cells—to break down pollutants at a molecular level, including VOCs, bacteria, mold, viruses, and allergens. By using nanotechnology, PECO is able to destroy pollutants 1000 times smaller than the standard filters must meet to qualify as HEPA.  Molekule's PECO air filter destroys over 99% of SARS-CoV-2 in 1 hour.
Trainer Contact: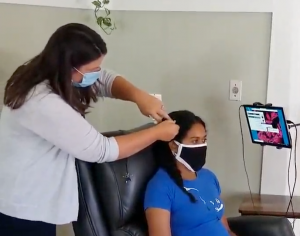 Our necessary contact with you is very minimal. 
Neurofeedback:
We stay masked and sanitized and only need to attach sensors to your scalp and ears, which takes less than a minute.  Then you enjoy 33 minutes of relaxing neurofeedback on your own.  We will return to remove the sensors at the end of your session which takes about another minute of our proximity. All other add-on services require very little to no contact as well. 
Massage:
The pneumatic compression massage suits are sanitized with UVC light.  You, after sanitizing your hands, will climb into the suit and we will assist you in fitting it.  We set the program for your massage and leave you to enjoy it.  While we are nearby if you need us, we will leave the room.
Salt Therapy:
You will wear your mask until you enter the salt booth and close the door.  The salt is naturally anti-viral.  The booth is aired between clients.
NanoVi:
You may use a cannula under your face mask.
Illness Guidelines:
We ask that all visitors follow the standard guidelines set out and not come in if you have any signs of cough, fever, loss of taste.
Payment and Waivers
:
We ask that you make your appointment, pay, and sign the waivers online before your appointment so we are as contactless as possible.
Use the Restroom Prior to Arrival:
In an attempt to minimize germs, use the bathroom prior to your arrival.
Disinfection:
Inside the spa, we are sanitizing regularly.  HEPA air purifier constantly clears the air with blue light germ-killing technology.  We will continue disinfecting all surfaces in our office (doorknobs, countertops, chairs, headphones, sensors, etc.) in addition to the sanitization that we have had already in place.  All sensors and ZAMP are wiped with alcohol.  Soft surfaces are sterilized with UVC light.
Neurofeedback Rentals:
Not ready to come out but want to have the benefits of neurofeedback?  We have take-home neurofeedback rental systems!  Read More
If you have any other questions or concerns about safety before coming in please contact us.
Please read carefully to prepare for your appointment:
Sign waivers and online forms
Sanitize your hands when you arrive
Remove or cover your shoes
Silence your phone and use quiet voices
Arrive on time (not early, not late) for your appointment as we have a very small waiting room and need to maintain proper distancing
Wear comfortable clothing that you can relax in
Bring a pair of comfy socks as we are a shoes-off space
You are welcome to bring an eye mask and your personal headphones or earbuds for neurofeedback
Use the bathroom before you arrive if possible
Avoid wearing perfume or scented fragrance the day of your session
Stay well hydrated before and after all massage and red light treatments
Any questions?  text us at 510-338-4645 and we are happy to advise.